PINS AND NEEDLES X THE EMERGING SIX
It is our pleasure to announce the emerging six who will lead the Pins and Needles X fashion show in a soirée full of glamour at The Majorette on Thursday October 4 2018. Carter's Pins and Needles continues to assist with the success of emerging designers—whether just completing their degree, recently graduated, working on their first collection for retail sale or preparing for their first market and to create a platform for the designers to get exposed to the St. Louis fashion scene. For this year's Pin and Needles emerging designers competition, the designers are going to create one look using fabric provided by KDR Showrooms. The designers will compete for a $10,000 Grand Prize and a People's Choice Award worth $500 that will be announced the end of the night.
Her professional journey as a fashion designer began in 2012, when she enrolled at UMSL as an art major. Soon she was commissioned to paint two portraits for the University, which are still on display at the college. From her love of art she began designing and enrolled at the Stevens Institute of Business and Arts the following year. A self thought, she began to sew through books and YouTube. Today, she operates her own business and hopes to expand nationally. Her goal is to reach her target audience and spread the brand image throughout the country.
Favorite designers: Virgil Abloh, A. Wang, Cushnie et Ochs
Previous participations:Pins and Needles Presentation, The Unit Fashion Production, Manology, SIBA, The Row Chicago, Alive Magazine
Designs available at: www.khandiray.com
Lily Guilder Design is for anyone who wishes to channel their inner Rockstar/ Glamour Queen/ Superhero/ Dapper Dude/ Iconoclastic self. The collection is comprised of limited edition ready to wear and one of a kind/ custom designed garments all created in Nashville. Designer Caitlin Stolley believes in the transformative power of clothing and uses fabric texture, layering and a variety of embellishment techniques to create garments with enhanced dimension, vibration, and danceability, each piece sprinkled with magic.
Favorite designers: Alexander McQueen- exquisite detail and master storytelling; John Galliano- rock n roll royalty look through the years; Marc Jacobs- brilliant marketing and beautiful clothes
Previous participations: Black and Light Ball, NYC, 2003; Collective Hardware, NYC 2008; Belize Fashion Week, Ambergris Caye, Belize 2013; Glam Lab for the Humane Society, WI, 2014; Telluride AIDS Benefit Fashion Show, CO, 2015, 2016, 2018; Nashville Fashion Week, emerging designer, TN 2017; Curated, TN 2017, Fashion if for Every Body, TN 2017 Nashville Fashion Week, Nashville Designer, 2018
Designs available at: Two Old Hippies in Nashville, Lily Guilder Design's Showroom, (Sept 2018) Stacey Rhodes Boutique

Maang (meaning the moon in Farsi) is a brand of clothing and accessories founded by Iranian fashion and jewelry designer Yasi Fayal (MA Fashion Design, Brera Fine Arts Academy in Milan). As a multicultural brand, Maang is bridging the gap between Yasi's Middle Eastern background and her European life experience.
The brand is dedicated to slow fashion and sustainable practices. Yasi creates her collections through a considered and experimental process. Mathematical and geometrical inspirations from mineral patterns are one of the recurring themes in her designs derived from her background in mining engineering. Her designs invite her audience to think about fashion in a different and more interactive way.
Favorite designer: Gareth Pugh, Alaia,Comme Des Garcon,Viktor & Rolf, Alexander McQueen
Previous participations: Spring Fashion Show 2018 guest designer at Lindenwood University STL, Premier, Milano Fashion Week in Italy, Terrazza Duomo 21 in Milan,Italy, World EXPO 2015 in Milan,Italy
Designs available at: The Designing Block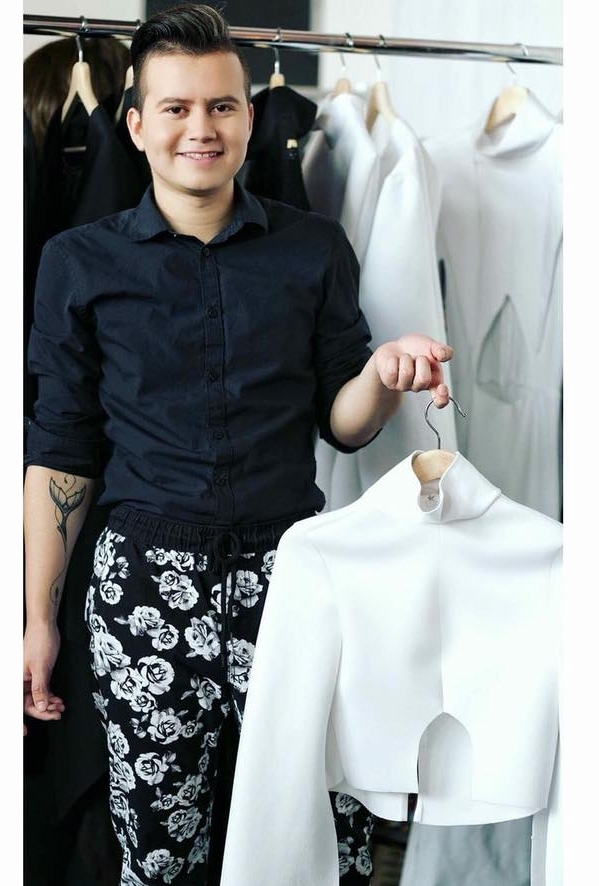 Roger Figueroa is a fashion designer based out of Kansas City. The 22 year old was born in Manzanillo, Colima, MX. He describes himself as an active member of his community. His upbringings are some of his attributes for his love of art, music, fashion and culture. He recently completed his degree in Apparel Design and Technology. During his enrollment in the fashion program, Roger was awarded Student of The Year, Fashion Club President and received an award for Leadership in academics and extracurricular activities. His goal is to work in the West and East coast in the fashion industry as a creative designer. He eventually wants to start his own foundation to help widowed parents and their kids with financial help and resources to expand their education. He wants to use fashion career as a platform to make a difference in his community.
Favorite designer: Rick Owens
Previous participations: Omaha Fashion Week March 2018, Freedom through fashion march 2018, Omaha Fashion Week Aug 2017, Kansas City Fashion Week march 2017, Kansas City Fashion Week Oct 2017
Designs available at: (June 15th) Bridal Boutique in Oak Park Mall
A second year student at Washington University in St. Louis, pursuing a Bachelor of Fine Arts in Fashion Design, Emma began designing on her own time around 5 years ago, She is passionate about design, sustainability, engaging an audience, and making a statement. She describes herself as an avid creative always looking to express herself through hands-on media and out-of-the-box methods.
Her ultimate goal is to combine fashion design and interactive installation art and create immersive experiences for an audience through fashion. She believes that everyone can be creative, and it doesn't take an artist to create something beautiful and wants to curate environments with her artwork that facilitate people contributing their own perspectives to her work.
She wants to disrupt the traditional environment of a museum by breaking the silence and the unspoken rule of "don't touch the art." In her career, she hopes to create installations that are a true expression of her own creativity, and also inspire others to think about what her work means to them. She wants to prove that experiential art and daily life are integrated and inspire people to approach their interactions with the world in a more mindful way.
Favorite designer: Alexander McQueen
Previous participations: MERAKI - an Interactive Installation
Elyse's current goals include developing her brand and making connections in the fashion industry. Her collection is based on the skyline of Chicago, the city in which she was born. Her strong family ties to the city created the perfect focus. Because of its combination of the city scape and lake Michigan, the Chicago skyline is known as one of the top ten most beautiful in the world. In Elyse's designs, she focuses on architecture imitated through complex pleats and water imitated through volume. Her completely white collection plays on the well known architectural style: International style. Emerging during the cold war, International style strives to streamline architecture in order to avoid any ornamentation or propaganda. This allows the viewer to focus on the structure and silhouettes of the garments. With this collection, Elyse moves to dress independent professional women, who seek modern and high quality clothing. The collection is named Dolores in dedication to her Aunt and family whose love and support have allowed Elyse so develop her creative mind.
Favorite designer: Zac Posen
Previous participations: Lindenwood Fall Fashion show, Romancing the Runway 2017, Lindenwood Senior Fashion Show